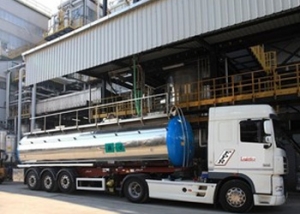 Food tanks in service for Effepierre Logistics are all stainless steel 304 and have a capacity ranging from 28,000 to 36,000 liters, they may be mono or multi-compartments, suitable for the transport, also ADR, of any liquid food. They can maintain a constant temperature during the transport, deliver products in a sterile environment, using closed circuits connected to bacteriological filters, unload autonomously by pumps or compressors.
The products we may transport belong to different categories such as:
– Food : Fruits or tomatoes concentrates, fruits salads and vegetables, jams, canned vegetables, vegetable soup, starches, fructose, glucose , oil, sauces.
– Beverages: Wine , alcohol, beer, spirits, soft drinks , syrups , tea , fruit juices , musts ..
– Sweets: Chocolate, custard, leavened products , margarine , jam
COUNTRIES SERVED: Austria, Belgium, Denmark, France, Germany, Greece, England, Italy, Netherlands, Poland, Portugal, Spain, Switzerland.