Warehouse -5° + 15°
Just nearby Alba in the Piemonte region, we dispose of a temperature controlled warehouse (Not ADR), with rooms varying from 200 to 250 pallet places.
TEMPERATURE CONTROLLED from -5° A + 15°. Our spaces can be made available to customers with contractual period of minimum, 3, 6 and 12 month renewable, depending from the goods to store.
For more info, contact us at +39 02 91080147 or email us at info@effepierre.it describing your needs!
– Dedicated Software for track & tracing of the stored goods.
– Pallet labelling service.
– Management of documents in/out.
– Daily update of the store goods.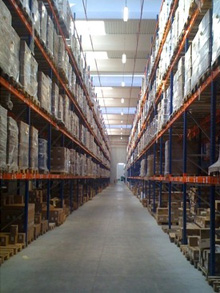 Wharehouse ADR
With the objective to meet the complex requirements of our customers, we can trade brand new Logistics centers at about 15 kms from the west ring road of Milan (San Genesio e Uniti and Sesto Ulteriano), with solutions for the storage of dangerous goods, capable to comply with the provisions of the rules of the so-called "Seveso Law".
The plants are equipped with modern technology, able to guarantee the storage of 25,000 pallet places, with advanced electronic equipment for the collection and management of the incoming and outgoing goods, so as to establish before end, the maximum storable for law and the possible interactions.